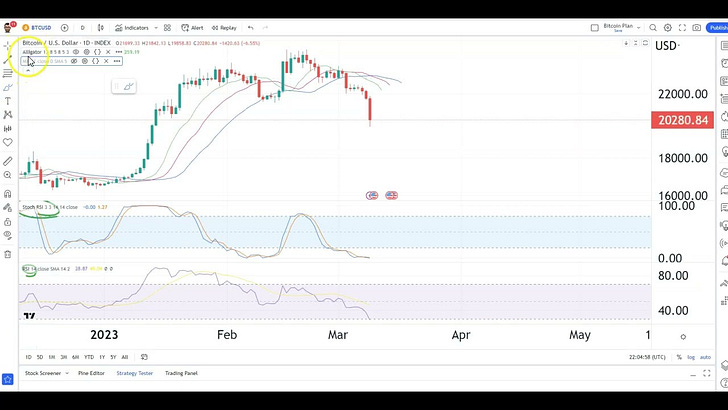 Mar 12 • 6M
Weekly Rundown - March 12, 2023
On a Lark
こんにちは! Konnichiwa!
Did you hear?
Silicon Valley Bank failed. This is terrible for any business that held deposits or used their banking services.
Also, its failure has nothing to do with crypto but its management of a particular risk related to US treasuries, the "safest" asset on earth.
SVB had an A1 credit rating, a top 20 rank on the Forbes list of America's Best Banks, and its CEO served on the board of directors of the Federal Reserve Board of San Fransisco, one of the branches of the US central bank. It's also the second largest bank failure ever recorded in the US and it happened virtually overnight.
Another bank, First Republic, now seems destined to the same fate, with a few other names floating around the rumor mill. 
So you can understand why people in the US are worried about contagion and wondering what other banks the regulators missed.
---
---
The US government took over SVB on Friday. On Monday (tomorrow), one of two things will happen:
Regulators will find a new owner, the bank will open, and everything will continue to operate normally.

Regulators will close the bank, give all customers their money back up to $250,000, and probably return most (maybe all) of their customers' other deposits at a later date (but as soon as possible).
At least, that's how it's supposed to work.
Why do we care?
Because Circle had 6% of its USDC reserves at SVB. Since it can't access those reserves, people worry about the solvency of USDC. As a result, some people sold USDC on the secondary markets, driving its price down (redemptions still 1-to-1).
Bank failures suck. In the US, we haven't had any since 2020. On average, 33 banks failed each year from 2010-2020.
Is this the start of another 2008 global financial crisis? Or simply a return to normalcy—things get bad for a bit as we go back to an economy that looks more like the ones we had for decades before the COVID crisis?
We'll see. Fortunately, we have some bitcoin.
Are you worried about what will happen to crypto prices now?
If you're following my plan, you don't need to worry unless you want to. We've talked about this for weeks. If anything, you're getting antsy about sitting on your hands while we wait for the next opportunity.
We bought into the market for most of last year and the beginning of this year, often at lower prices than today's. You've been setting aside cash since January 12. You can take it easy.
Anybody who took the trade I mentioned in February, you just got a "retest of the trendline." So, you're covered in that side, too. Just mind your stop-loss!
Premium subscribers, look for a market update this week and make sure you caught my most recent update from March 8, 2023.
Scroll down for some notes, a meme, and useful info.
---
Crypto always goes through bubble cycles on small and large time frames in bull and bear markets (if those terms even mean anything anymore).
Did you know that we just completed another bubble cycle?
This one's a picture perfect mirror image of the 2021-2022 cycle, shrunk down to two months and a tiny price range. Watch this video for details:
Does that mean you should worry?
Watch the video, then you can decide for yourself.
---
Wealth Mastery published a brief, easy report on platforms you can use to monetize or generate income off of your NFTs. "NFT-Fi," as they say.
With these platforms, you can rent NFTs and borrow NFTs or post them as collateral for loans.
In other words, you can make money on NFTs without having to flip them or speculate.
While some people think NFTs are dead, I assure you they're not. In fact, they're one of cryptocurrency's killer apps but most people only know about the JPEG version of the technology.
Learn about NFTs now before the next wave of innovation demonstrates their true potential. This report's a good place to start.
I've tinkered with NFTs for my business, e.g., NFT subscription models or perks. I haven't yet found the right NFT partner for this newsletter and I'm worried that my government will zap me if I use NFTs in any way that gives you a stake in my success or any way to benefit from the success of my brand, platform, or content.
That said, I do post articles on Mirror for purchase as collectibles. It's the only type of NFT that seems legal in the US without registering with the SEC.
---
SVB is not crypto
Some people are mixing up SVB with Silvergate Bank, the crypto-focused bank that failed earlier this week. They're totally different businesses with a few overlapping customers.
SVB was a large bank that served lots of mainstream businesses and many household names. Silvergate was a small bank that specialized in banking solutions tailored to the unique needs of crypto businesses. Don't lump them together!
As you know from reading my books and posts for years, I'm cautious about VCs and "institutions" in crypto. It's great to have their enthusiasm, support, engagement, and money. At the same time, crypto will destroy their business models. That's a big conflict of interest.
While that doesn't have to be a conflict of interest, it's an issue that not enough people talk about. But I do!
Read my latest post, Silvergate's Loss is Crypto's Gain.
---
---
Bottom line: non-crypto companies are hiring for developers with industry experience.
My take: all is not so bad! People still think this technology is useful. Sometimes, you can't tell what something's worth by looking at its price.
Why we care: nobody kicks a dead dog.
---
Jobs Corner
These jobs come from the ToolsForCrypto newsletter. If you'd like to post a vacancy here (for free), email mark@markhelfman.com.
Relax and enjoy the ride!