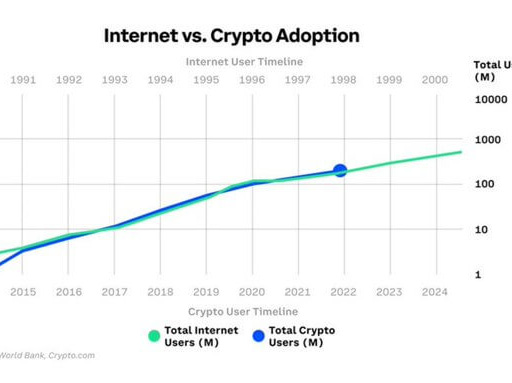 Dec 20, 2021 • 6M
Weekly Rundown - December 19, 2021
And you're worried about crypto?
Omicron. And this, too:
BTW more reports out of China that its shadow banking system may have more cracks in it than anybody expected. Not the kind of rumors you want to hear out of the world's #2 largest economy and most countries' largest trading partner.
Yet as far as crypto goes, the evidence shows strong accumulation patterns and healthy churn among people holding and using bitcoins. In the bear markets of 2011, 2014, and 2018, we saw the opposite.
That should make next month's death cross very interesting.
Last week's poll asked "When will bitcoin's price go above its all-time high of $69,058?"
Check out the responses:
Before December 31, 2021—19%

Between January 1, 2022 and March 15, 2022—61%

After March 15, 2022—17%

Never—3%
What do I think?
I'll join the majority in targeting January-March next year, with an outside chance we get back to $69k before the end of this year.
Read below for another poll, two articles, two images, and a video you may enjoy.
Premium subscribers, make sure you caught my altcoin market update from this week, it has interesting insights into Ethereum and touches on a few other topics, too.
No bitcoin update this week, but everything's essentially the same as it's been for a while. I'll get you an update in the next day or two. Also look for the monthly issue this week.
---
Poll: Do you believe in trading charts and technical analysis?
---
Bottom line: Meta let a small number of US users send crypto to other users through WhatsApp. It's testing the functionality and integration with its Novi wallet.
My take: what, no Congressional hearings? In 2019, when Facebook proposed its Libra stablecoin, everybody considered it an evil attempt to use money to rule the world. Now, Facebook does the same thing (as Meta) and it's back-page news. I guess things change when you use dollars instead of your own currency. Don't sleep on this—especially with plans for the metaverse in full swing. It's a potentially game-changing application of cryptocurrency with a range consequences simply because Meta's so big. For example, what happens if the US dollar becomes the de facto currency of the metaverse (via Meta's use of stablecoins)?
Why we care: just wait until Meta builds a DEX and DeFi platform to go with its payment platform. In the past year, it rolled out payments in India and Brazil on legacy financial infrastructure. This pilot runs on a totally new payment rail. The possibilities are endless—for both good and bad. 
---
Saw this chart floating around "the internets," as one US president used to call the web.
According to this chart, if crypto paces the internet, less than a billion people will use it by the end of 2024. I don't know if the correlation and project is actually true but it seems plausible.
What do you think? Please comment!
---
Bottom line: in the US, low-income people feel better about the economy now than they did last month. People at other income levels feel the same or worse.
My take: with the US government reporting real wages essentially flat for the year and down for the middle 50% of workers, does this bump in low-income sentiment suggest the "wealth effect" is at play? People feel good when their wages and assets go up, even if their costs of living go up, too. A sense of hope and optimism makes them feel better about spending money, even if their money doesn't go as far as it used to (gas, rent, inflation, etc).
Why we care: better for us that people are happy than sad. Scared money doesn't buy crypto (or usually anything).
---
I posted my first YouTube QA last week. In the 6-minute video, I covered Tether (USDT), Ethereum's flippening, and correlations with the S&P 500. Feel free to watch.
---
Some fun images for older people, courtesy of Forrest Taylor:
Relax and enjoy the ride!
---