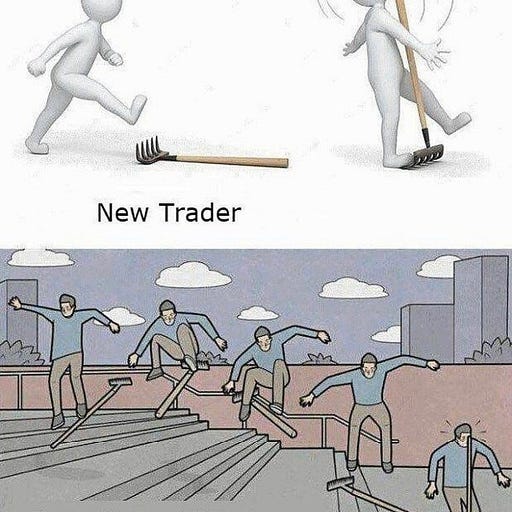 Mar 14, 2022 • 4M
Weekly Rundown - March 13, 2022
Ah governments
With the European Union set to vote tomorrow on whether to ban cryptos that use proof-of-work consensus algorithms (e.g., BTC and ETH), you probably have one question on your mind:
Will bitcoin's price go up or down?
While the EU's actions certainly don't help, we don't know yet know how this vote will go. In any event, crypto is a global asset. Money, talent, and success will follow wherever the opportunity goes, whether that's in the EU or elsewhere.
That said, if you have any insights into the matter, please comment below. I opened the comments section to everybody, not just people on the paid subscription.
Ok, about the crypto market.
In this week's updates, I noted interesting activity from miners and institutional investors, commented on NFTs and the significance of DeFi users taking a lot of their bitcoins out of smart contracts, and shared what I'd need to see from this market before I shift my attention from bitcoin to altcoins.
If you missed those updates, here they are:
Scroll down for a poll, two articles, a speech, and a meme.
---
Poll: How high does bitcoin's price need to go before you will buy more?
---
Bottom line: South Korea elected a crypto-friendly president.
My take: I don't know whether the crypto stance had much to do with the election results, but it's pretty cool to see this from South Korea, whose incumbent leadership cracked down on crypto exchanges last year. Let's see if this new leadership can make good on its stated goal to better regulate the crypto industry.
Why we care: something to keep in mind when you read about Singapore and UK banning bitcoin ATMs.
---
Bottom line: President Biden will give US agencies nine months to report on potential uses and regulations for cryptocurrencies, including a central bank digital currency (USD on the blockchain).
My take: it's good to see the Biden administration aim to create a government-wide, general framework for crypto. Obama's administration didn't think much about it (nobody did), Trump's administration ignored it, then tried to kill it, then gave it to Wall Street. Let's see what Biden's people do with it. Once there's some meat on the bones, we can start talking about "good" or "bad."
Why we care: it's too soon to start placing bets on the final outcome of this effort. It will include lots of US agencies—from technology, environmental protection, national security, law enforcement, tax administration, finance, and other parts of the federal bureaucracy. Meanwhile, Congress can get involved at any step of the way. Let's worry when we need to worry, celebrate when we need to celebrate.
---
On that note, read this statement from the head of the US Office of the Comptroller of Currency, the agency that regulates the US private banking system.
While this statement presents some specific facts without proper context, it captures one big concern of US financial regulators: people unfairly taking advantage of you.
Good people can disagree about how to clean up crypto—and what that even means. For the OCC, that means better education and transparency for people who buy, use, and sell crypto. This will matter a lot in the coming years, as US banks wade deeper into the crypto waters.
US laws are nonsensical and archaic, not evil. Different agencies have different concerns and viewpoints on crypto.
One member of Congress or a single bureaucrat can say or do something you don't like. That doesn't mean the rest of the government agrees with them.
If you have an hour and a half, you can watch the recorded webcast of the related meeting (I didn't).
---
A little humor to start your week.
Relax and enjoy the ride!
---